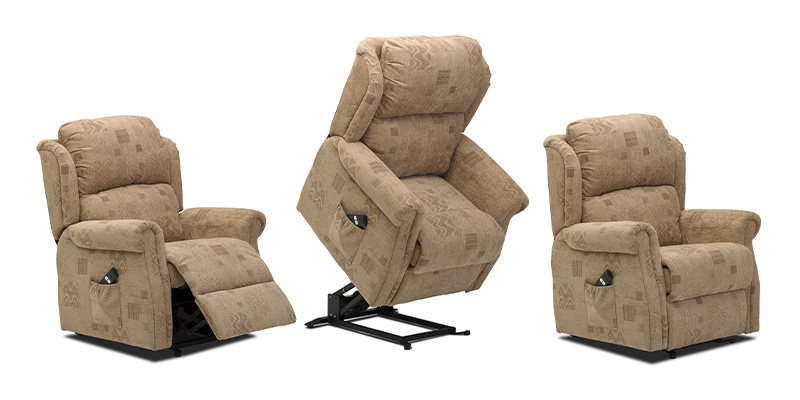 Why a Lift Chair Is Right For Your Home
If you're considering investing in a lift chair, the wide variety of options may seem overwhelming at first. Don't worry – we're here to make the decision easier for you by providing the top features you should keep your eye out for when searching for the right chair.
Lift Chair Neck Support
One of the most important things for a lift chair to have is proper head and neck support. Some chairs come with an extra pillow for added comfort while other chairs have built-in neck pillows for support.
Lift Chair Memory Settings
Some lift chairs provide programmable memory settings to provide ultimate convenience. Once you find that perfect setting, you can save it and program your chair to automatically go back to that comfortable position whenever you'd like.
Lift Chair Ideal Weight Capacity
Before deciding on a lift chair, you should figure out what weight capacity you want your chair to have. Some chairs have a weight capacity of 375 pounds, while others reach 500 pounds. It's important to find the right weight range so your chair can function its best and provide the right support.
Lift Chair Lower Body Support
Finding a lift chair that supports your head and neck is crucial, but it's equally important to have proper lower body support. This will help with alleviating back pain and is great for those with edema who need to elevate their feet.
Various Lift Chair Sizing Options
Lift chairs normally come in different sizes for you to choose from. For example, the Golden MaxiComforter is available in six sizes: Petite/Small, Medium, Large, Tall and 500 lbs. Pick the size that best fits your needs and reach out to our team if you need help deciding.
Style That Compliments Your Home
Once you narrow it down and find the right support, weight limit and size of your chair, now you can decide on a style. If the chair you pick offers a variety of fabrics or colors to choose from, compare the options with the furniture and décor you already have so it fits right in with the style of your home.
Plus, It's The Perfect Holiday Gift Idea
Whether you have an elderly loved one who could use some mobility assistance or even just need a new comfy chair to lounge in, a lift chair would make the perfect Christmas gift. It's an item that would get so much use, lasts a long time and is 100% worth the investment. Contact us and we'd be happy to help you pick out the perfect gift!
If you need assistance when it comes to deciding which style or size to go with, we're happy to help. Start browsing our online catalog for ideas and contact us for help!
October 22, 2021 by ThedaCare At Home