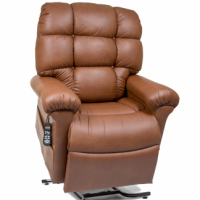 Lift Chairs
Comfort and Safety In Your Home
No living room is complete without a comfy chair. Whether you're watching your favorite shows, cheering on your team, or just looking for a place to take a nap, your reclining chair is your go-to spot. But if you have limited mobility or are aging in place, a reclining chair can be hazardous as you sit and stand. But ThedaCare At Home provides a solution to keep you safe – a lift chair. You can learn more about lift chairs by contacting the ThedaCare team.
Who Should Use a Lift Chair?
Lift chairs can be used by anyone, but they are designed to meet the needs of those living with limited mobility and elderly. With a lift chair's enhanced safety features, they provide extra security for those who have difficulty sitting and standing. In addition to the extra safety, they also provide dignity by allowing you to maintain your independence and stay safe where you're most comfortable – at home. Learn more about lift chairs by checking out our lift chair buying guide, viewing the products below, or contacting our team.
Lift Chair Return Policy Get in Touch