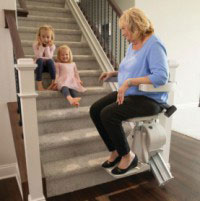 Stair Lifts
Safely Access All Levels Of Your Home
Your home may not have been set up to accommodate individuals with limited mobility. If your home has multiple levels, you need a safe way to make sure people of all physical capabilities can make it up and down the stairs. A stair lift from ThedaCare At Home is the perfect addition to your home. The stair lifts we carry are manufactured by Bruno, one of the leading providers for in-home accessibility.
Types of Stair Lifts We Offer
No home is built the same. So if you need a stair lift in your home, you need one that can be built to match your home's unique needs. The Bruno stair lifts at ThedaCare can be built to match straight or curved staircases. We'll perform an assessment and handle the installation to make sure everything is set up safely. Get started on adding a stair lift to your home by browsing the products below and completing a product order request form. If you have any questions, please contact our team of experts.