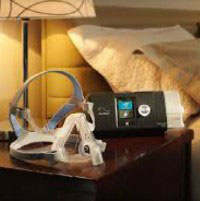 CPAP
Millions of people live with sleep disorders like obstructive sleep apnea. In order for them to get the restful sleep they need, they use CPAP equipment to help them breathe as they sleep. ThedaCare At Home carries a wide range of CPAP equipment, including:
CPAP machines
CPAP masks
CPAP cleaning supplies
Each of these categories is critical to helping sleep apnea patients breathe easy while getting a restful night's sleep. Please contact us to learn more about how we can help you get the CPAP equipment you need.