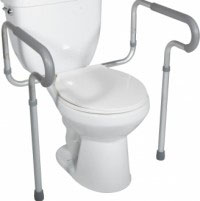 Bathroom Safety
Improve Safety In Your Home's Bathroom
The bathroom can be one of the most dangerous rooms in your home. Your bathroom is full of wet, slippery surfaces and sharp corners. All of this can lead to you slipping, falling, and sustaining an injury. ThedaCare's bathroom safety equipment is built to make your home's bathrooms safer for everyone, especially those living with limited mobility. From grab bars that give you a secure grip as you move throughout the bathroom, to bath benches and shower chairs that allow you to sit safely while you bathe, we have the equipment you need.
Who Needs Bathroom Safety Equipment
While the equipment is designed do be used individuals with limited mobility and and assist caregivers, bathroom safety equipment can benefit anyone. Improving bathroom safety for anyone provides extra safety for everyone. Browse ThedaCare's bathroom safety equipment below. If you have any questions, please contact our team or read through some of our bathroom safety blog posts.