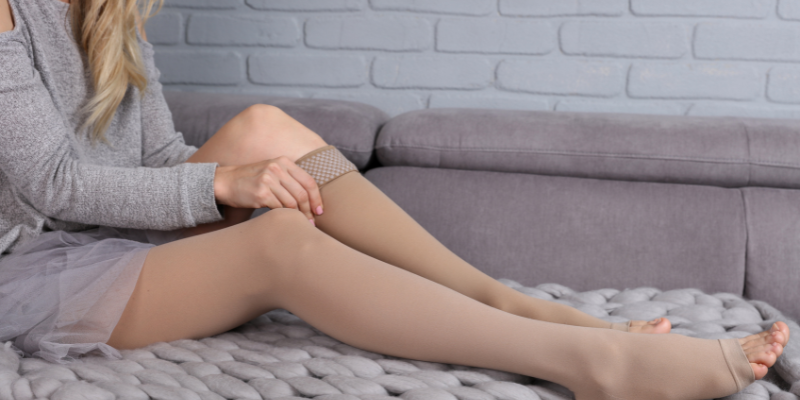 The new year is here and now is the perfect time to replace your old compression wear. Taking care of and replacing your compression wear will help you receive all of the benefits that compression wear has to offer. We're going to share with you a few tips on how to know when you need to replace your old compression wear, when it is time to get refitted, and a few helpful maintenance tips!
When To Replace Your Compression Wear
Replacing your compression stockings will maximize their performance so you can know that they are working correctly. Since you are probably wearing your compression stockings every day, they wear and tear just like any other piece of clothing. They may stretch and lose their shape or just become less effective over time. Here are a few tips on when to replace your compression stockings:
Generally, it is recommended that you replace your compression stockings every 3-6 months. After 3-6 months the elastic fibers will start to break down and they will lose their compression effectiveness.
If your compression garments become loose, easy to put on, and become stretchy, that means that they have lost their elasticity and should be replaced. Your compression wear should fit snugly, and they shouldn't slip or come off easily.
If your compression stockings start sliding down while being worn or just look worn or thin, it may be time to replace them. Often times, when not cared for properly the fibers in the stockings, will begin to wear out.
If you have recently experienced drastic weight changes, it is important to get refitted and replace your compression garments so that they fit properly and can be as effective as possible.
Maintenance Tips
Try to wash your compression stockings every day. This is important for hygiene purposes, and it will help your stockings return to their original shape after being worn all day.
Be sure to wash your compression stockings properly. You can check the care instructions to see how you can safely wash your compression garments. Usually, a mild detergent will work, and be sure to avoid softeners and bleach.
Air drying is recommended to maintain the quality of your stockings, you can gently squeeze the water out after washing and loosely hang them up to dry. If you do decide to put them in the dryer, use a low or delicate setting.
Avoid wearing lotions or oils underneath your compression stockings. The oil can break down the fibers in your compression wear.
The new year is the perfect time to replace your old compression garments, start maintaining them properly, and replace them as recommended. For further information, visit our website! We have helpful tips for measurement, caring for your compression garments, and many stocking options available. If you have any questions regarding your compression wear, reach out to our team!
January 14, 2023 by ThedaCare At Home