Compression/ Support Stockings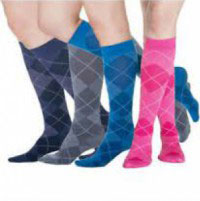 Compression/ Support Stockings
Improve Circulation With Compression Stockings
Whether you're on your feet all day looking to improve circulation, or you live with a chronic condition like lymphedema, you need a sock that will help you feel more comfortable. With compression stockings from Thedacare, you'll find the relief you're looking for. We carry compression garments from leading brands. These compression stockings utilize gradient compression to encourage consistent flow. So if you live with conditions like lymphedema or chronic venous disease, let ThedaCare help you. Contact us to learn more.
Our Compression Stocking Services
ThedaCare has trained professionals on staff that are certified compression stocking fitters. We'll help you find the right compression stocking for your needs and make sure it is fitted properly. If you'd like to learn more about how to measure yourself for a compression stocking, or how to properly care for your stockings, please click the buttons below.