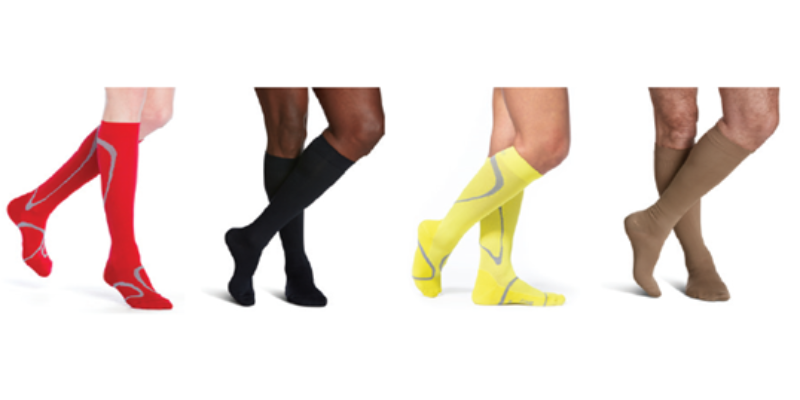 When it comes time to choose which compression stockings are the best option for you, it may seem overwhelming with all the options available. We are going to share with you a couple of tips and information so you can understand what the different kinds of compression stockings are used for and help you make the best decision on what compression stockings are right for you.
1. Choose Your Compression
Light

15-20 mmHg
Uses: daily wear, sports recovery and travel
This level of compression can help improve circulation without being too tight.

Medium

20-30 mmHg
Uses: sports recovery, everyday wear, medical recovery and treat mild symptoms post-surgery
This level of compression offers a higher level of support.

Firm

30-40 mmHg
Uses: treat moderate to severe symptoms and medical recovery
This higher level of compression can help with severe swelling, blood clots, and other conditions.
2. Choose Your Fabric
Compression stockings are made with many different fabrics and each fabric has a different use. Here are a few common fabrics that compression stockings are made with and what each of them do:

Nylon: Fast drying and durable
Spandex: Allows the stockings to stretch
Rayon: Silky and lightweight
Wool: Warm and moisture wicking
3. Our Options
Here are just a few of the compression stocking options that we offer:
Compression stockings can be very beneficial for many reasons, they can boost circulation, reduce swelling, and more! Choosing the correct compression stockings for you will allow you to gain all of the benefits and will help you reduce any symptoms you may be experiencing! For more information on compression stockings, contact us today or visit our website to see all of our available options!
December 15, 2022 by ThedaCare At Home