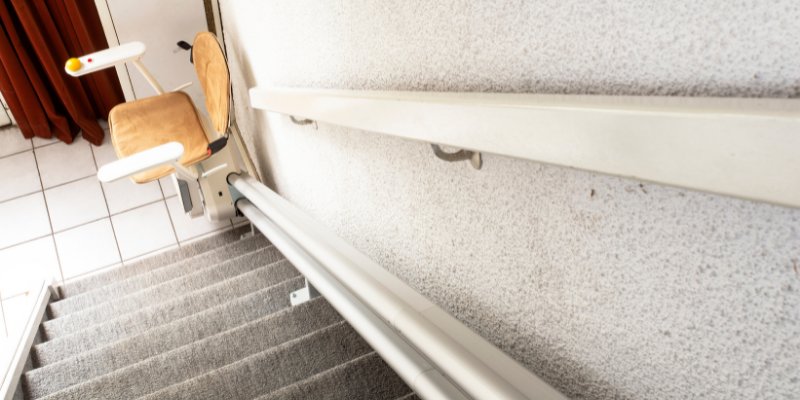 Stair lifts provide a safe alternative to get from floor to floor. When stairs become difficult to navigate due to weakness, limited mobility, lack of stability, or serious injury, a stair lift might be the option for you. Who should use a stair lift? Compare your personal situation to the benefits below to see if a stair lift could be the best solution for you.
Safety Features
If you find stairs hard to navigate or worry about injuring yourself on them, then a stair lift might be the right solution for you. Stairs often cause falls and injuries in many people's homes. Incorporating a stair lift into your home will allow you to use all the areas and floors of your home with confidence and will help prevent serious injuries when you're using your staircase.
Feasibility
Stair lifts provide a smooth and comfortable ride, and most importantly, are easy to use. Here are the steps to operate your stair lift.
1. Sit down on the stairlift seat.
2. Put on your seatbelt.
3. Press and hold the rocker switch, located near the armrest.
4. To stop the stair lift, release the switch.
Benefits
1. Being able to get up and down the stairs with a stair lift restores safety and independence for the user, allowing them the freedom to get to the basement or up to a bedroom when they choose.
2. A stair lift is friendly for multiple users. It includes two keyed remotes, that way if the lift is at the bottom of the stair and you are at the top, you can select the "up" arrow to bring the stair lift to you for use.
3. Stair lifts can often allow aging in place for much longer. Not being able to get around the home can cause concerns that may lead to downsizing, senior living, or the need for a caregiver.
4. Stair lifts can be a benefit for someone with a short-term injury who is unable to safely navigate their stairs. They can be removed from your staircase if you were to no longer need them.
5. A stair lift is a quick and much more affordable solution, allowing you to stay home.
Who Should Use a Stair Lift?
As you have learned, a stair lift is a quick and affordable solution to address safety concerns when using the stairs. So, the answer to 'who can use a stair lift?' is truly anyone who feels unsafe using their staircase, has a hard time navigating their staircase, or someone who has had an injury preventing them from getting to and from desired areas in their home.
Stairlifts are a great solution for safety and independence at home. Your home may not accommodate your limited mobility. ThedaCare At Home performs an assessment and installation to be sure your stairlift is built to meet your home's unique needs for maximum safety. Call us today to speak to one of our experts or visit our website to learn more about the stair lifts and services we offer.
April 9, 2022 by ThedaCare At Home