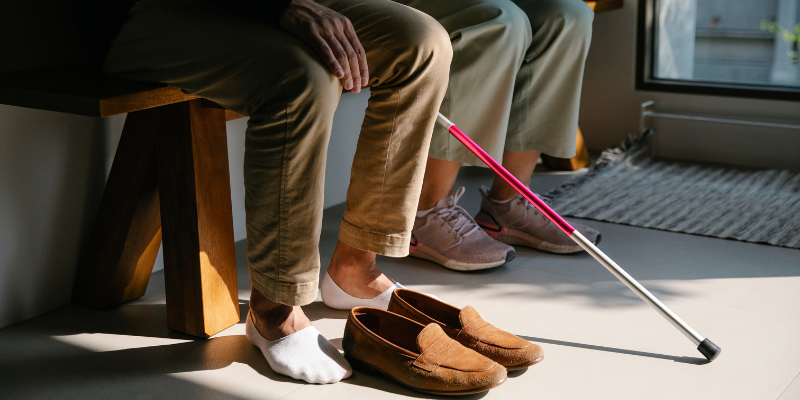 If you are struggling with mobility or are wanting to be more independent, a cane is a great option. When searching for the right cane, it is important to know the difference between cane styles to know which one will work best. We are going to share with you a few of the cane styles that ThedaCare offers and the difference between them, so you can know which one is right for you when it comes time to pick one!
This cane is one of our straight cane options with an offset handle. The offset handle allows for less pressure on the wrist and this cane has a strap that makes it convenient and comfortable to use. This cane is lightweight, durable, and has a weight capacity of 300 pounds. The Offset Cane is definitely a cane favorite, and we offer it in multiple other colors like walnut grain, pink garden, and camouflage.
A folding cane is the same as a straight cane except that it can be folded down into a compact size that makes it easy to transport. Our folding cane has a weight capacity of 250 pounds and has height adjustments ranging from 32" to 36". The contour grip handle makes this cane comfortable and is a great choice for someone who goes to many places and would like to easily store their cane.
Quad canes are similar to straight canes but provide additional stability with the four feet extending from the base. Our quad canes are designed to be lightweight and utilize a low center of gravity to provide extra stability and balance. This quad cane option comes with an offset handle that rotates and can be used by either the left or right hand. Quad canes are a great option because they can stand up by themselves which eliminates the need to bend down to grab the cane. Quad canes are also a great option when using stairs because of the additional support and stability.
If you have been looking for a cane, we hope that this helps differentiate our cane options so that you can find the one that best fits your needs. If you have any questions about our canes and which one is right for you, reach out to our expert team, we are happy to help!
January 28, 2023 by ThedaCare At Home