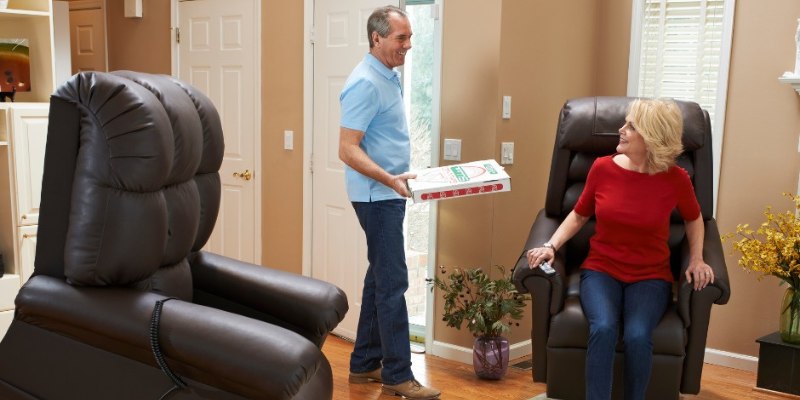 Have you ever wondered about the capabilities of a lift chair? Lift chairs can provide you with a plethora of benefits and can make the everyday task of sitting down and standing up easier. In today's blog, we will highlight the capabilities of a lift chair!
What is A Lift Chair?
A lift chair is a piece of medical equipment that looks identical to a standard reclining chair, it has capabilities to help those with limited mobility safely sit and stand up from the chair. A lift chair is powered by a remote control that can move the lift chair into multiple different positions from upright to reclined. Lift chairs are available in a number of different styles, sizes, and colors to ensure that it will fit into your home perfectly. At ThedaCare, we provide reliable and safe lift chairs with a variety of different styles to choose from, check out our selection here!
What Features Do Lift Chairs Have?
Lift chairs are not only designed for safety, but they're designed with your comfort and style in mind, too. Different styles of lift chairs come with different accessories and features such as:
Heat
Massage
Powered headrest
Lumbar support
Battery backup
What Capabilities Do Lift Chairs Have?
Lift chairs have so many different capabilities and can provide so many benefits to individuals with limited mobility, arthritis, and even during pregnancy. Here are a few of the capabilities that lift chairs have:
Provides Stability and Safety
For those with limited mobility, the risk of injury increases greatly when it comes to going from a sitting position to standing and vice versa. A lift chair can provide stability for the individual which will in turn reduce the risk of injury.
Gives Individuals More Independence
Because lift chairs provide excellent stability and support, lift chairs can give the user more independence. This independence can eliminate the need to rely on others and can give the individual more confidence. More independence in the home allows the user to age at home safely for longer and can improve their overall quality of life.
Reduces Edema
Lift chairs give the user the ability to elevate their legs and sit in comfortable positions that can help reduce edema and swelling. Many different health conditions can cause edema and sitting in one position for a long period of time can make it worse. The lift chair allows the user to safely switch positions which can ultimately help reduce edema.
Reduces Joint Pain
Many individuals with arthritis and joint pain can greatly benefit from a lift chair. The different positions that lift chairs provide can help reduce the strain that is put on the joints. Many lift chairs offer different features such as heat and massage, that can also help reduce pain in the muscles and joints.
Overall, lift chairs are extremely versatile because they provide a variety of different benefits to many different individuals. At Thedacare, we strive to provide our patients with the highest quality lift chairs! To learn more about our available lift chairs, visit our website or give us a call if you have any questions!
May 5, 2023 by ThedaCare At Home