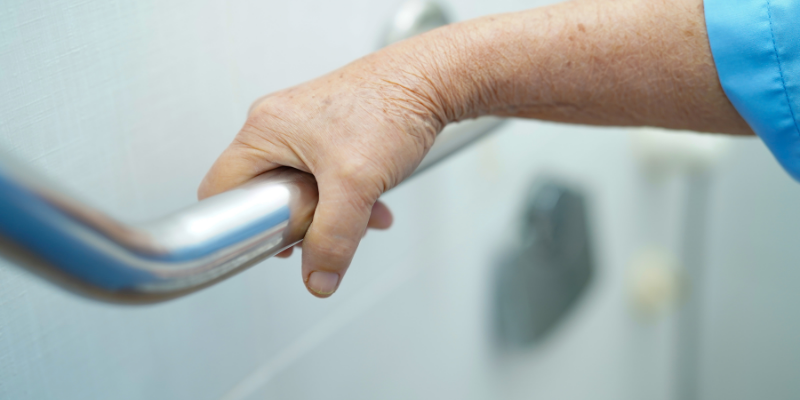 When it comes to staying safe in the bathroom, the #1 thing you can focus on is prevention. By preventing falls, you will be able to age in your home safely and maintain your independence. Here, we'll give you some top tips on how you can stay safe in your bathroom so you can live alone safely and worry-free.
1. Install Grab Bars
Falling in the bathroom is the main cause of injuries, but by installing grab bars, you're offering a safety net for people to use who need full support, increased stability or just a little assistance in case of emergency. One great benefit of grab bars is that they are family-friendly and beneficial for people of all ages to use, even kids! These grab bars can be placed nearly anywhere in your bathroom and can be installed horizontally, diagonally or vertically leaving lots of room for flexibility.
2. Improve Accessibility
Making things in your bathroom more easily accessible allows for better safety by reducing having to reach far distances for things. You can do this by getting items such as bath chairs or transfer benches, or installing shelving in and out of the shower to make things easier to grab.
3. Remove Tripping Hazards
Loose rugs can pose a risk of falling in any room in your home, but they are very common to have in a bathroom. While it may seem like a good idea to have a rug in the bathroom, you don't want just any rug. You'll want to find a bath mat with suction cups on it or find traction mats or pieces to help reduce falls and reduce a slippery surface.
4. Get Better Lighting
Poor lighting can make it hard to see what you are doing on those late-night trips to the bathroom. Look info getting a night light or keeping a dim light on so you're not searching for a light in the middle of the night or trying to find your way in the dark.
5. Invest in Proper Seating
As we mentioned before, bath and shower chairs are not just good for accessibility, but they can help reduce falls in the actual shower or bath. Another option to look into is a toilet seat frame, toilet seat riser or commode to make using the toilet safer.
Now that you have some tips and ideas on how you can stay safe in your bathroom, don't hesitate to get started! If you need help with new products, feel free to find what you need online in our catalog or contact us for help! We look forward to helping you stay safe in the place you love most, your home.
March 18, 2022 by ThedaCare At Home