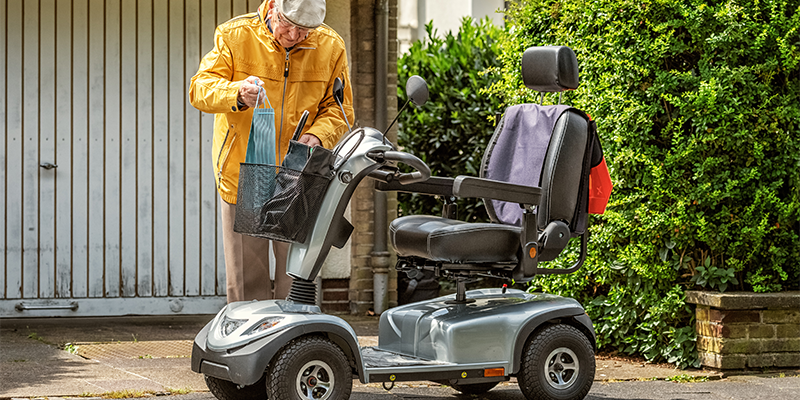 When you're looking into purchasing a mobility scooter, there are two main categories to consider: 3-wheel and 4-wheel scooters. While you see both options available in multiple styles, many people don't know what the differences are, or which would benefit them most. We're here to help explain so your decision can be a little easier!
3-Wheel Scooters
While you can't really go wrong with either scooter, there are different pros and cons to each scooter. Generally, women tend to like a smaller scooter and lean towards the 3-wheel, while men like something a little sturdier and may find the 4-wheel option more appealing. But, don't make your decision too fast. These pros and cons will help weigh your options out.
3-Wheel Scooter Pros
Low turning radius
More legroom for taller adults
Less bulky for storage and transportation
Lighter weight
Ideal for indoor use
3-Wheel Scooter Cons
Not ideal for outdoor, rough terrain
4-Wheel Scooters
One thing 4-wheel scooters have a huge advantage of is their use for outdoors. If you find yourself spending a majority of your time on your scooter outdoors, a 4-wheel scooter is most likely the best choice for you. But, if you're still unsure, take a look at the other pros and cons of this type of scooter.
4-Wheel Scooter Pros
Highly maneuverable outdoors
Increased stability
Better for traveling at higher speeds
Sturdier for bariatric patients
4-Wheel Scooter Cons
Generally, more expensive than 3-wheel
If you're still unsure of which scooter would be best suited for you, don't panic! We have experts here at ThedaCare to help you make the right choice. First, take a look at some options in our online catalog, then contact us for assistance or to order – it's that easy! In just a matter of time, you'll be cruising on your scooter with limited mobility behind you.