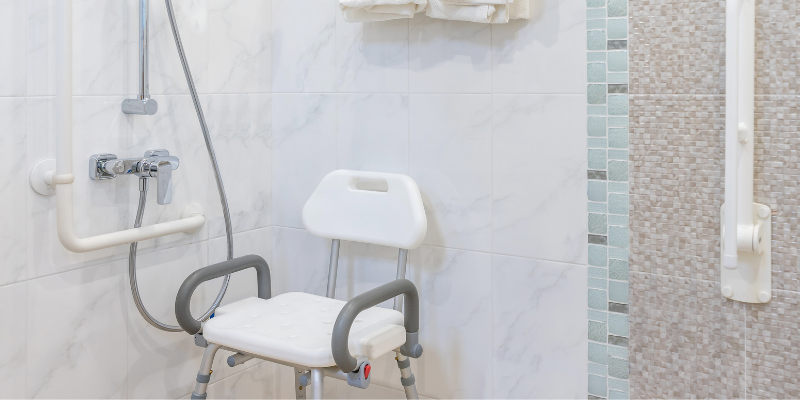 Did you know, the most dangerous room in your home is the bathroom? And from those injuries, most occur in the shower or bath, trying to stand, sit, or slipping and falling on a water-soaked floor. So, when it comes to aging in your home, the risk of falling gets even higher. That's where we come in. Here you'll learn about different bathing seats and how to decide which is best for your needs.
If you're looking for a bath seat without a back, a bath bench is a perfect fit for you. These are lightweight, so they are good for moving around if needed from bath to shower. These also have drainage holes in the seat with a rougher but comfortable surface to ensure it's safe but comfortable to sit on. The bath bench that we offer has a weight capacity of 400lbs. View this bath bench by Drive Medical in our online catalog to see if this would be a good fit for you.
Bath chairs come in a variety of options. Some things you can find in bath chairs are:
Backrests
Removable armrests
Optional baskets for storage
Seat cushions
Bath chairs are very versatile and are often one of the most common seats you will find. These also often are called shower chairs. One great thing with bath chairs is they have adjustable legs to ensure the height is just right and you are not having to squat or 'plop' down on the chair, which can be unsafe.
Transfer benches are often a little more bulky or heavy than a regular bath or shower seat, but these are heavier duty for good reasons. These benches help you transfer yourself inside to the outside of the tub, and vice versa. Some options you will find in transfer benches include:
Padded or unpadded seating
Optional armrests/handles
Commode opening attached to the bench
Seat belt for extra safety
We understand there are many options to choose from and don't want to overwhelm you, so if you still have further questions about which bath seat is best for you, give one of our experts a call! We're here to walk you through your options and answer any questions you have to ensure you find the perfect seat and stay safe in your bathroom.
March 4, 2022 by ThedaCare At Home