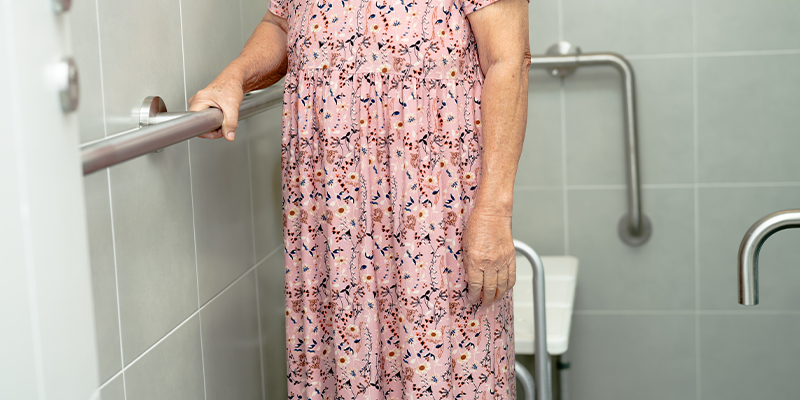 Have you been wanting to improve the safety of your bathroom? Safety in the bathroom is so important to prevent falls, slips, and injuries. Bathroom safety products can benefit individuals with limited mobility as well as their caregivers. We are going to share with you a few bathroom safety essentials to get you started on your bathroom improvement!
Grab bars are great because you can put them anywhere in the bathroom where you might need them. This allows for more customized and personalized bathroom safety products. You may need to put one near the toilet, sink, and shower. They are easily installed and provide extra support and stability that you may need!
A raised toilet seat will increase safety when using the toilet! It gives you a more stable and comfortable base to sit on and will provide extra support when sitting on the toilet and standing up.
Non-slip bathmats are a great addition to bathrooms when trying to improve safety. They are easily installed products that provide a lot of extra safety. A bathmat will make the shower less slippery, which will reduce the risk of falls and injury.
A handheld shower head will allow you to increase your independence. You can effectively shower while seated and the handheld shower head will provide extra flexibility so you can get the water where it needs to go!
Bath chairs or benches allow you to rest in the shower instead of standing for long periods of time. This extra stability makes a slippery shower a much safer place to be.
Bathroom safety is essential for everyone, but especially individuals with limited mobility. The bathroom can be a dangerous room inside your home but with these five essentials, you can increase the safety inside your bathroom and reduce the risk of injury. If you are interested in even more bathroom safety products, check out our website!