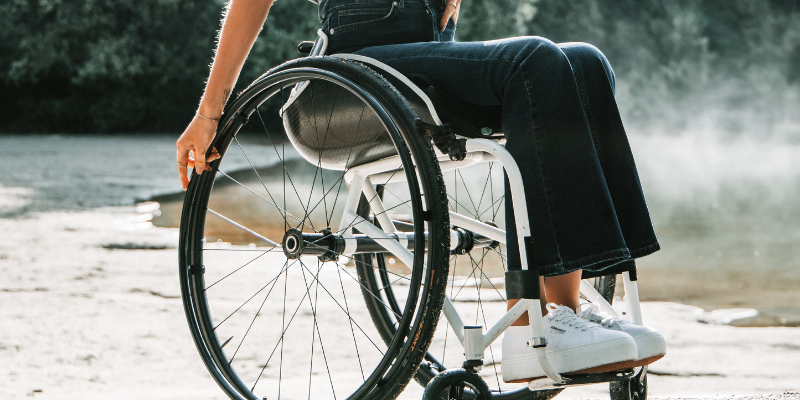 Mobility & Accessibility Project To Help You Age In Place
Aging in place – something almost every adult aspires to be able to do, and with the help of daily mobility products, it can be possible for many! While sometimes it may seem like everything is going against you, we want to shed some light on what we believe to be some of the most helpful daily mobility products to rely on as you get older so that you can remain safe and healthy day in and day out.
1.Grab Bar
Grab bars are one of the easiest things you can get to add safety to your home. They're easy to use, simple to install and don't break the bank. Most often they are used in bathrooms, as the bathroom is known to be the most dangerous room in your home, but different types of grab bars and other rails can also be used throughout the home or in entryways or staircases.
2. Shower Seat
Shower seats or shower chairs can help reduce the risk of falling while bathing. These allow you to sit in the shower or bath on a sturdy seat so you're not having to bend and move on the slippery shower floor. One great benefit to these chairs is that they are portable, so no installation is needed!
3. Toilet Riser
Low toilets are common in most households and for adults that have trouble sitting and standing, these can be a problem. Toilet risers eliminate that problem in a cost-friendly way over purchasing a pricey taller toilet. Many of these risers also have handles on the side so that you can have added comfort and peace of mind while using the restroom.
4. Shower Mat
Shower mats are something that can benefit people of all ages young to old! Standard shower floors are very slippery when wet and pose one of the largest falling risks in the home. By adding a shower mat or non-slip mats, you can lower your risk of falling while bathing. These are especially handy while getting in and out of the shower or bath.
5. Lift Chair
The benefits of lift chairs are endless! They provide extra safety and comfort to your living area. It makes standing and sitting easier for those with limited mobility and it also works great to elevate your legs, reducing edema. We've found lift chairs work great for people of all ages and they blend right in with your home. You can customize the color, fabric and style to get the perfect fit.
6. Stair Lift
If you're thinking you'll be able to live in your home for many years, getting a stair lift installed will be beneficial to you. You won't be limited to one floor of your home and you can live worry-free while holding your independence. You can get stair lifts installed in straight or curved staircases and they have both indoor and outdoor options.
7. Reacher/Grabber
If you're not familiar with this device, a reacher or a grabber is designed to easily grab something out of reach. These work great to use for too high to reach items like things in a cupboard or something on the top shelf. If you are a wheelchair or scooter user and have difficulty standing to get things, this item is a must!
8. Bed Assist Rail
Bed assist rails fit most bed sizes and are designed to assist seniors in getting in and out of bed. These rails are especially nice for adults that need assistance without a caregiver or partner to help them. These devices are secure and easy to attach to your bed giving you peace of mind each morning and night.
9. Mobility Device
Whether you're dependent on a mobility device to get around or just need a little assistance, there is a product to help. For indoor use, 3-wheel power scooters work well to get around in smaller places, but if you just need a little help, a walker or cane may be what you're looking for. Either way, it's never a bad idea to have something to help you get around, especially when you are in your home alone.
10. What to Remove?
For this last "product" we wanted to talk about what NOT to have in your home to keep you safe. For starters, one thing we suggest removing from your home is rugs. Rugs pose a tripping hazard for elderly people and for people who use devices like walkers and canes that could get caught on them. Another good thing to remove is any cords that could get caught in your path. The main goal is to keep all pathways wide and clear of any hazards.
Now that you know what products are needed for yourself or your elderly loved one to age in place, you can rest easy. We conveniently carry all of the products listed above and you can view them right here in our online catalog. As always, if you have questions about any products or how you can improve the safety of your aging loved one, don't hesitate to reach out! We're here for you every step of the way.