Golden Daydreamer Lift Chair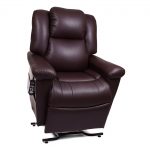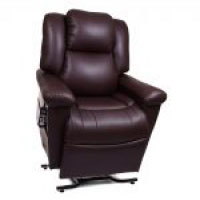 The Day Dreamer lift chair from Golden Technologies gives you full control to find the most comfortable sitting position with customized comfort. Complete our order request form if you are interested in adding this lift chair to your home. ... View More
Details & Specs for Golden Daydreamer Lift Chair
Experience the highest levels of comfort with the Day Dreamer lift chair from Golden Technologies. The Day Dreamer gives you all the tools to find your most comfortable sitting position. The whole goal of the Day Dreamer is to provide customized comfort that allows you to make slight adjustments to your positioning to what's perfect for you. The Day Dreamer lift chair also features Power Pillow technology with allows you to adjust the headrest while also receiving extra support. Please complete our order request form if you're intersted in adding the Day Dreamer lift chair to your home. If you have questions, please contact the ThedaCare At Home Team. We also invite you to consult the ThedaCare At Home blog to learn more about the features you should look for in a lift chair.
Contact Us Lift Chair Features Guide
Day Dreamer Lift Chair Features
Exclusive Power Pillow™ for Ultimate Head Positioning
375 lb. weight capacity
Patented MaxiComfort® recline technology standard
Exclusive AutoDrive™ hand control for easy operation
Customized Comfort – Lock in "YOUR" Favorite Comfort Position
Whisper-quiet dual motors for independent backrest and seat operation
Full Chaise Pad Support for Total Body Comfort
Superior Leg Extension
Anti-skid, adjustable leg levelers for enhanced stability
SmartTek® inside – patented diagnostic system
Industry Best Warranty!