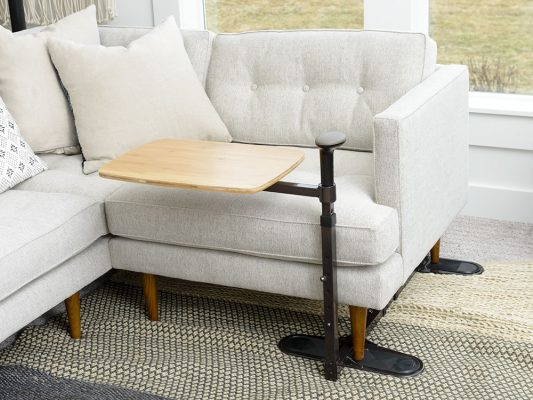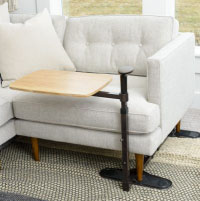 The Stander Omni Tray offers 360 degrees of swivel and can be set with almost any piece of furniture in your home to allow you to sit and stand safely. Complete our request form to add this to your home. ... View More
Details & Specs for Stander Omni Tray
Add safety and functionality to your home's living room with the with the stander omni tray. With this product, you get the benefits of two tools in one:
The stander gives you something to grip and provides support as you sit and stand from your couch, chair or sofa. This reduces your risk of sustaining a fall in your home.
The tray gives you a sturdy side table that can swivel 360 degrees for your convenience and can hold up to 20 pounds
The stander omni tray is fully adjustable for height and width, and can easily install to almost any piece of furniture in your home. Please complete ThedaCare's order request form to add the Stander Omni Tray to your home. Please contact ThedaCare At Home if you have any questions.
Stander Omni Tray Specifications
Height of Tray: 24" to 32"
Height Adjustment Handle: 28.5" to 36.25"
Dimensions of Handle: 4.5" x 5"
Base Length Adjustment: 25.5" to 35.5"
Weight: 20 lbs
Size of Tray: 20" x 15"
Base Feet Measurements: 5" x 8"
Weight Limit of Tray: 30 lbs
Weight Limit of Handle: 250 lbs
Case of 2 Dimensions: 20.5"L x 21"W x 7"H: 40 lbs
Package Dimensions: 20.5"L x 21"W x 3.5"H: 20 lbs