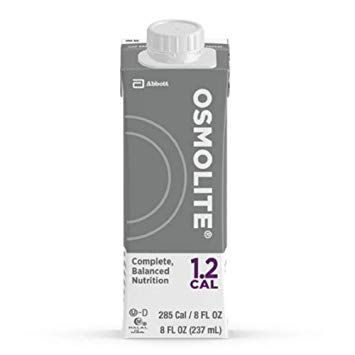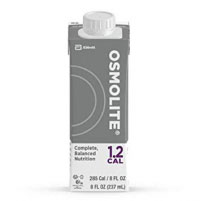 Osmolite® 1.2 Cal is a source of Complete, Balanced Nutrition® and a high-protein ... View More
Details & Specs for Osmolite 1.2
Osmolite® 1.2 Cal is a source of Complete, Balanced Nutrition® and a high-protein, low-residue formula for tube-fed patients who may benefit from increased protein and calories. For tube feeding. For supplemental or sole-source nutrition. May be used for oral feeding of patients with altered taste perception.
Use under medical supervision.
Concentrated calories (1.2cal/mL) and high in protein (18.5% of Cal) to help patients gain and maintain healthy weight.
Protein is needed for lean body tissue maintenance and repair.
Meets or exceeds 100% of the RDI for 24 essential vitamins and minerals in 1200cal.
Fat blend contains high-oleic safflower, canola, MCT oils and lecithin.
Kosher.
Halal.
Gluten-free.
Suitable for lactose intolerance.
Precautions: Not for IV use and people with galactosemia.
Ingredients: Water, corn maltodextrin, milk, soy, sodium caseinate.